The Current, News Site For My Daughters
This project is Day #7 of 10 Designs in 10 Days. Check out all 10 projects.
My oldest daughter is an avid reader. According to her goodreads account, she has read 432 books. That count only started when she opened her goodreads account so there's probably more that she hasn't added or forgotten to add to that list. She's 12 years old. (Just to shame her old man, I don't think I read 20 books when I graduated from high school.) She likes to read fiction and real-life stories. She has a subscription to a science magazine and a church magazine, which are both well read. She's slightly interested in current events but it's probably because we don't watch live TV or allow news sites on her computer account.
I want her to continue reading books but now that she's getting older, she will probably want to learn more about what's happening in the world, and will want to participate in discussions and create an opinion. The problem is most news sites are depressing and not targeted for her or her older peers. Online magazines or blogs are hit and miss.
So how can she read current events that are wholesome and appropriate for her age? My solution is an online magazine for kids and teenagers called The Current. It would be a platform with news, photographs and videos. Sections would include current events, culture, literature, fashion, movies, music, opinion, sports, tech, health, arts, and government. It would be curated and edited just like a newspaper. And stories may be republished on The Current if they're appropriate for the magazine.
In order for this solution to work, I need a few things. First, we've set up individual accounts on our iMac so each kid has their own access. They have a password and a time limit each day. We also have parental controls turned on so we can allow apps and websites appropriate for them. I would need to add this website to the "Allowed websites" section. Second, I have a nine year-old daughter who likes to read as well, not as much as her older sister but she's picking up the pace faster each day. I'm imagining this solution has tiered versions (8-11, 12-15, 16-18 years old), including subdomains for better parental controls. Third, most stories need to stay within the site for this to work in our family. I imagine there will be some links to other sites but the site is not intended to be a feed of stories from other news or magazine. Fourth, we have multiple devices at home so it has to work for desktop, tablets, smartphones.
Here's what a specific article would look like on the iPad. The design below shows reports on the current crisis in Egypt with an interactive map of the protests and links to additional stories.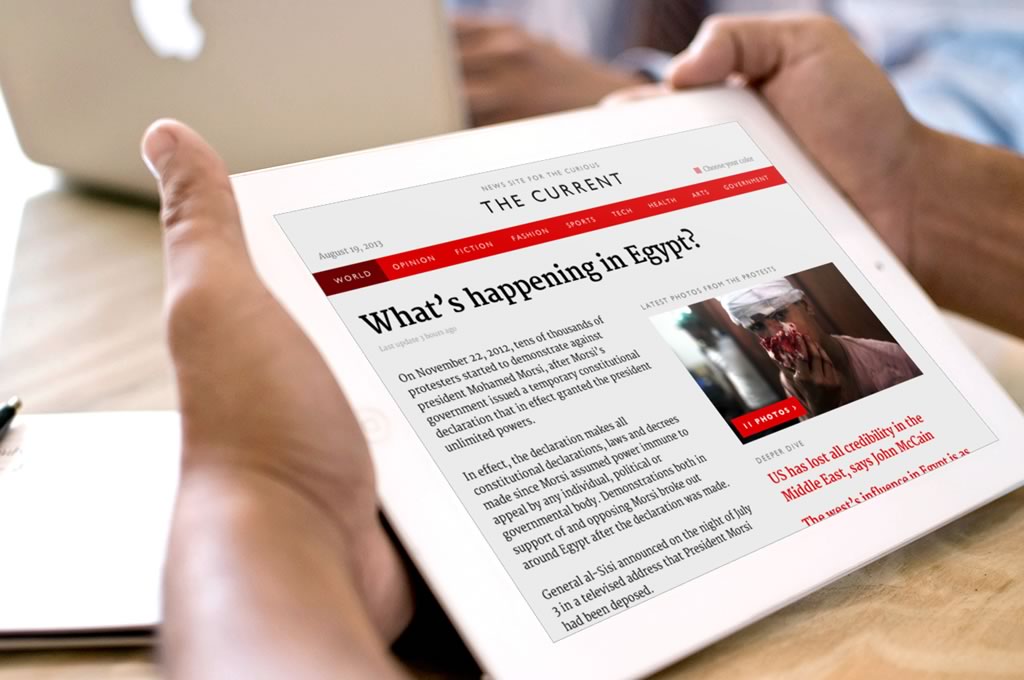 One of the features of the site would be the ability to change the accent color since we love customizing things. Here are three examples of different colors.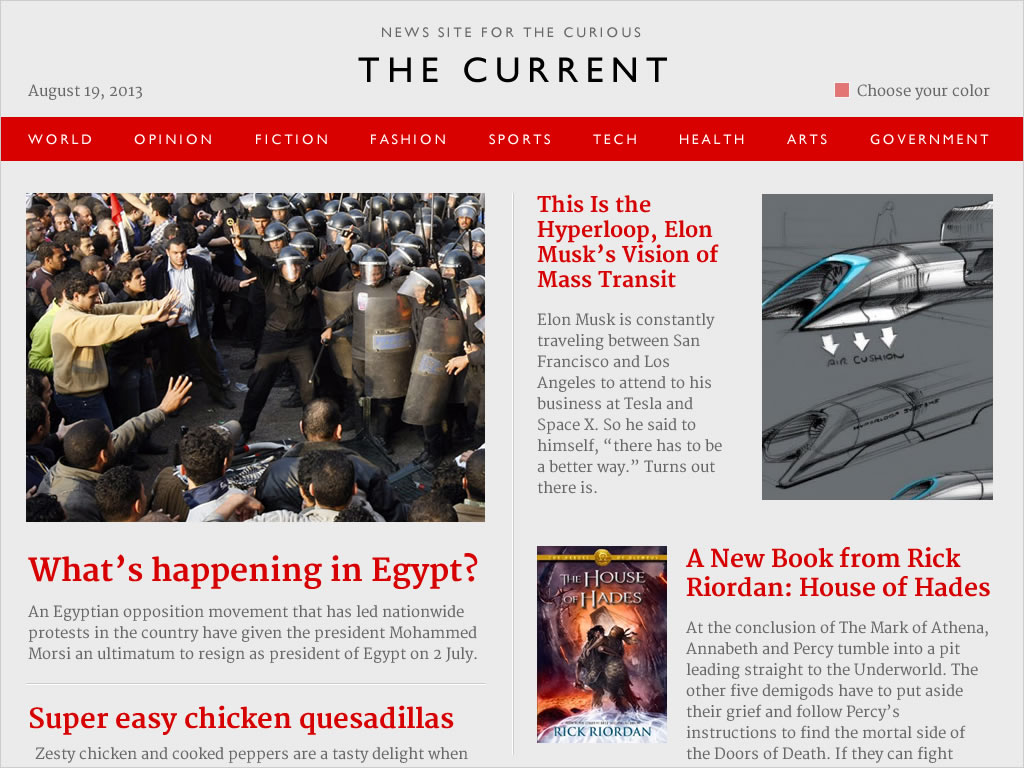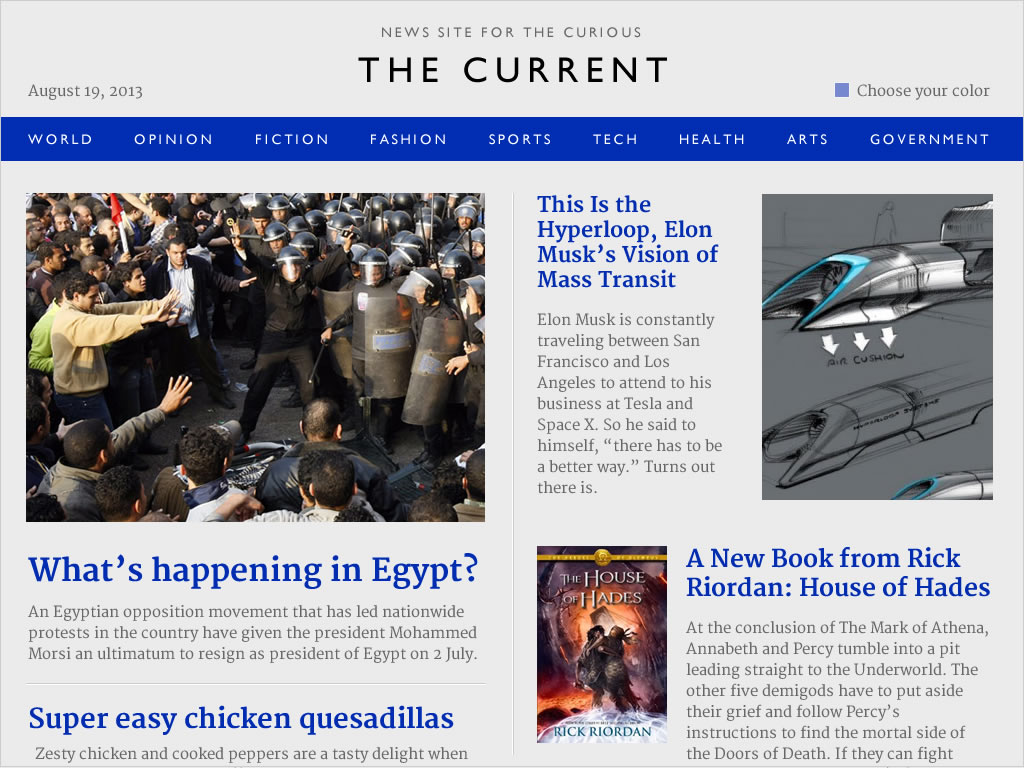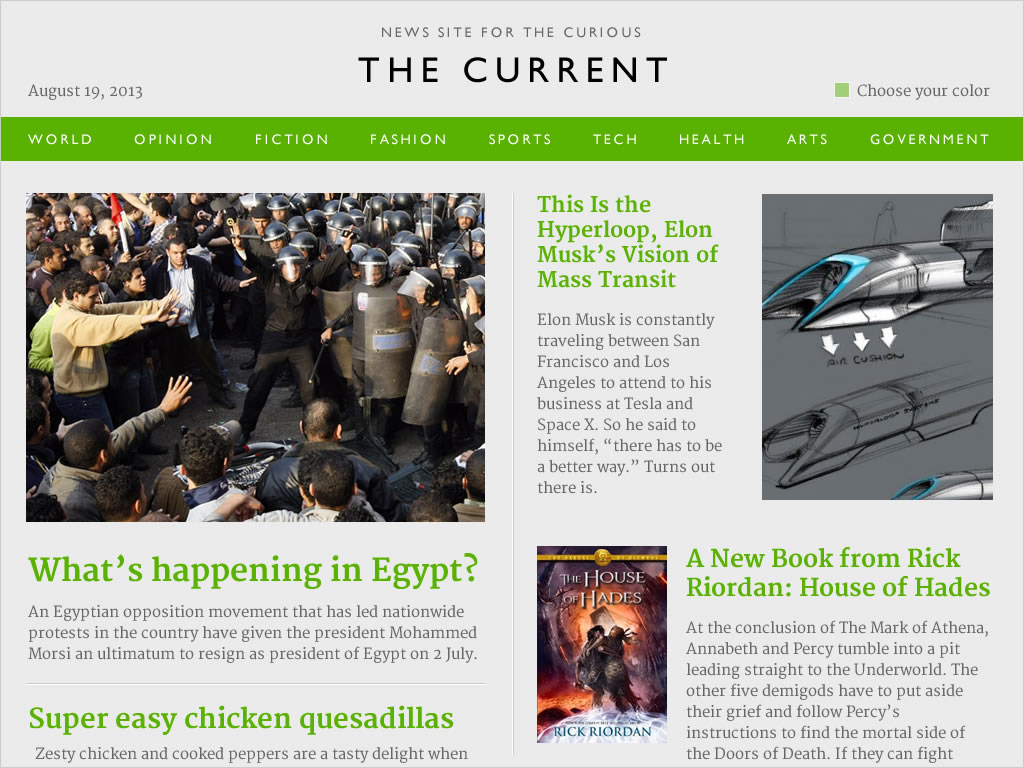 The article design straight on.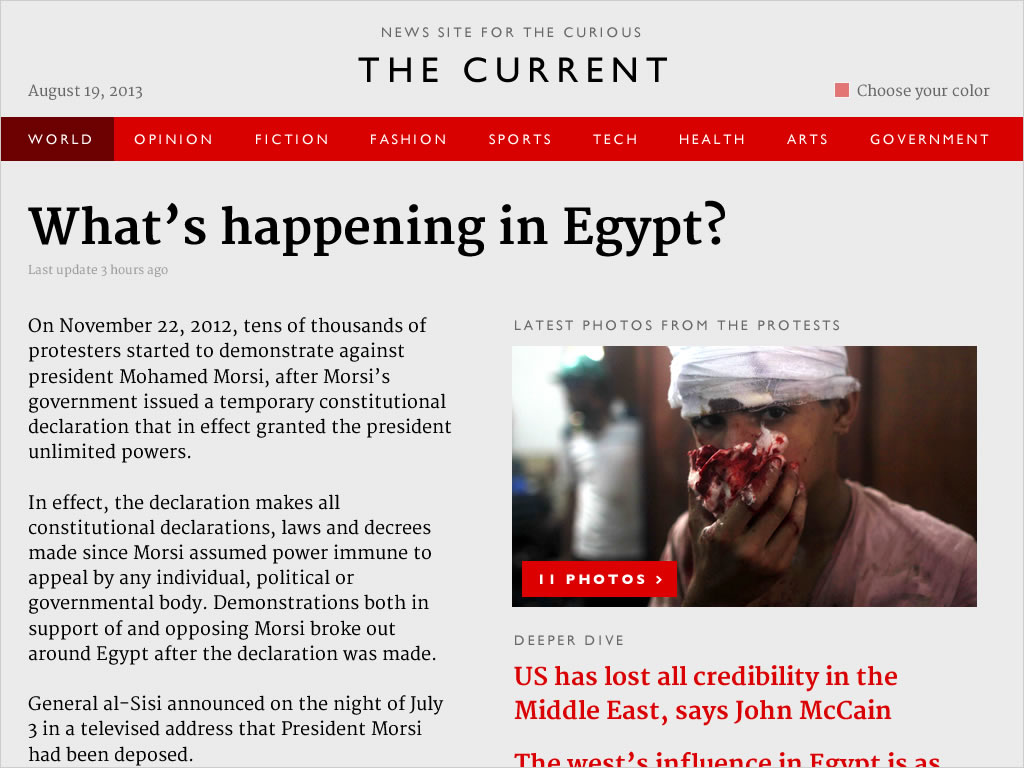 And lastly, the photo gallery view design.